Carpet Stores in Redding, CA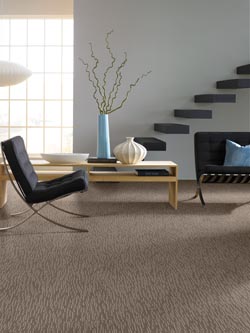 Ready to upgrade your home's carpeting? Whether your surfaces are damaged and dirty or you simply want to update the room's appearance, our carpet showroom is the place to go for an upgrade. For the best option among carpet stores in Redding, CA, visit us and view our immense inventory of products from nationally-recognized manufacturers.
From bright, bold designs to more somber and traditional looks, we have the right carpet for your needs. Stop by our showroom today to shop for floor coverings made from nylon, polyester, wool, and other luxurious materials. We carry products from trusted brands like Mohawk, Shaw, and Dixie Group, among many others. Area rugs are also available, as well as other flooring styles such as laminate surfaces.
If you have any questions about the options available to you, simply ask our knowledgeable staff members for assistance. They will be happy to answer your questions about carpet prices and maintenance requirements. Likewise, our team members can also provide product recommendations tailored to your stylistic preferences, price limitations, and lifestyle needs.


Sink Your Feet In To the Comfort of Carpet
Carpeting is popular in homes throughout the nation because it melds beauty with comfort. A carpet floor feels great underfoot and also creates a great space for children to play upon, making it ideal for families. Furthermore, it helps your rooms stay warmer when the temperature drops; you will never have to dread walking across a cold, hard floor on winter mornings. Carpet even muffles noise and decreases the chance of injury if you slip and fall.
Other benefits of carpet installation include improving your indoor air quality. Carpet fibers can trap allergens like dust and pollen at ground level instead of letting them float freely in the air to irritate people with allergies and asthma. By vacuuming the carpet regularly, you remove these trapped allergens from your home entirely.
Carpet is also easy to maintain. Beyond routine vacuuming and the occasional deep cleaning, it doesn't require much other care. If any spills occur, you can simply dab up the liquid and use a safe carpet cleaner to remove the stain-- if any stains even form. Modern residential and commercial carpets are specially designed to be more stain-resistant than ever before. For more information on taking care of carpeting, talk to our store staff.


Professional Installation Available Through Our Store
No matter if you are renovating a home or a business, we have our own team of professional installers to serve you. There is no need to search for a contractor to install your carpet or struggle with doing it yourself. Simply speak with our staff to learn more about our installation services and schedule a visit from our own qualified team.



Contact our carpet store for more details on our inventory and installation work. We proudly serve Redding, California, and the surrounding areas.