Hardwood Flooring in Redding, CA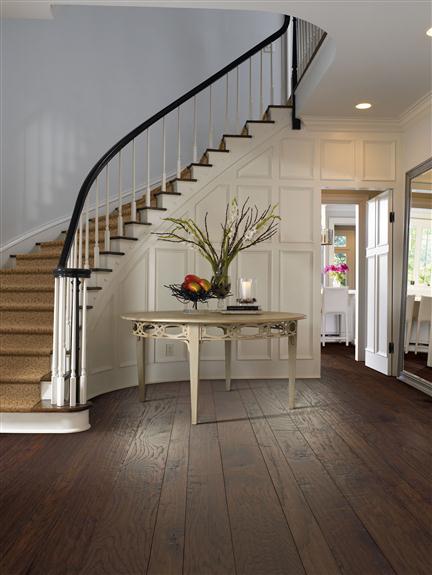 Add character to your home or business by installing hardwood. Both homeowners and business owners shop at our store for brand-name hardwood flooring in Redding, CA, and the surrounding areas. We carry in-demand products, such as naturally aged floors and surfaces from trusted manufacturers like Johnson Hardwood. Our store also carries other desirable flooring styles, such as tile floors.
No matter what style you are searching for, visit our showroom to discover the amazing selection available. You can browse our massive showroom on your own or with help from one of our knowledgeable sales associates. Our staff members are happy to answer any questions you may have about hardwood flooring prices and care needs. They can also make recommendations tailored to your specific renovation projects. Our goal is always to help you find the ideal surface to complement your interior design.


The Advantages Hardwood Offers
Choose hardwood to increase the beauty, longevity, and value of your property. Wood lends your rooms a warm, all-natural beauty that other types of flooring materials simply cannot match. Furthermore, wooden floors are very long-lasting-- with the right maintenance, they can even last a century or more. Thanks to their beauty and longevity, real wood floors are highly sought after in the real estate market. By choosing hardwood flooring installation, you can significantly increase the market value of your property.
Hardwood floors are also relatively easy to clean. Messes can simply be swept up, and any stains left before are usually easily removed with an appropriate clean and a little bit of elbow grease. If your surfaces ever do begin to look dingy, you can simply sand the floors and refinish them to refresh their appearance. Find about more about the advantages of hardwood by speaking with our staff.


Wide Range of Wood Choices Available
There is far more than just one type of hardwood floor. A wide range of wood species are used as flooring material, including cherry, hickory, maple, oak, bamboo, and even cork. In addition, hardwood is divided into two major categories: solid and engineered.
Solid planks are constructed using a single piece of genuine wood from top to bottom. They are typically thicker than engineered planks, so they can be sanded and refinished more often. Engineered planks, however, are constructed using various layers of wood that are bonded together. Thanks to their special construction, they are not susceptible to fluctuations in temperature and humidity. Learn more about the hardwood flooring options available to you by visiting our store today.



Contact our showroom for further information on the hardwood flooring products we carry. We proudly serve Redding, California, and the surrounding areas.