Transformative Luxury Vinyl Planks in Redding, CA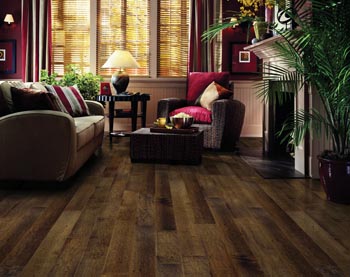 The flooring of your home plays a very important role in defining the overall appearance of any given room. That means you have to choose a floor that isn't just durable, but one that actually looks good in the space you are putting it. For some rooms, such as the bathroom, kitchen, or basement, it can feel like a real challenge to find the attractive flooring you want that is also durable enough to deal with the extra wear, tear, and moisture found in these spaces.
The staff at Flooring America of Redding understands your struggle. That is why we are proud to introduce you to luxury vinyl planks in Redding, CA. Made from strong and reliable vinyl, LVP floors feature state-of-the-art engineering and designs to perfectly replicate the look of some of the most gorgeous flooring options on the market, including hardwood and natural stone. When you want vinyl durability with a nature look, luxury vinyl planks are the way to go!
Bridging the Gap between Appearance & Functionality
Some types of flooring do better in different areas of your home than others. This means that even though you might want a wood floor in your basement, it may not be the smartest option for that moisture-prone space. So how do you get that hardwood look you want without the risk of unnecessary warping, wear, or tear? You choose luxury vinyl plank flooring.
LVP is a soft and attractive flooring option that can be made to look just like hardwood or natural stone. In fact, most people would not be able to tell the difference between the two if they were placed side by side. That means you are able to create the exact look you want for any room in your home thanks to the chameleon-like capabilities of this extraordinary flooring option.
Interested in seeing just how good LVP is at mimicking other flooring options? Then why not stop by our flooring showroom to see just how amazing it is for yourself. Our friendly and helpful staff gladly shows you flooring options that fit your needs while answering any questions or concerns you might have. We know that once you see our luxury vinyl planks for yourself, you are going to push it to the top of your list of potential floors.
Installation Services for Luxury Vinyl Plank
A proper luxury vinyl plank floor installation is an absolute must if you plan on getting the most value and performance from your new floor. That is why we encourage you to only work with a professional installer, such as the ones available from our store, when you have invested in a new floor. Our team works efficiently and effectively to install your floor the right way the very first time.

Contact us to find out more about our luxury vinyl planks. We proudly serve customers in Redding, California, and the surrounding areas.