Tile Flooring in Redding, CA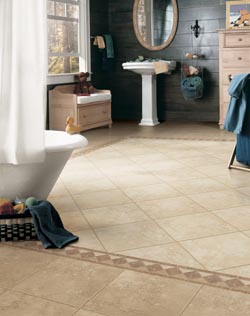 Give your interior a gorgeous, new look by installing tile. By shopping with us, you can explore our diverse selection of tile flooring in Redding, CA, for all applications. Whether you are renovating a bathroom, kitchen, laundry room, or elsewhere in your property, we have the right tiles to make your interior design shine.
Our store carries favored brands like Elysium, Bedrosians, and MSI. Likewise, we offer tiles made from a wide variety of different materials, including ceramic, porcelain, and slate. No matter if your project demands something classy and contemporary or traditional and rustic, we've got you covered. We even carry several other flooring styles, such as hardwood floors. In addition, we strive to keep our tile flooring prices as competitive as possible. Find out more about the selection available in our showroom by visiting our store today.


Why So Many Property Owners Prefer Tile
Tile is one of the nation's most popular flooring materials for good reason. Not only does it provide the cool, natural beauty of stone, but also it is incredibly durable and easy to care for. Many different colors and patterns are available in tile, so you can achieve almost any look you desire for your renovation product. Since tile is made from stone, it is very hard to scratch or scuff. It is also water-resistant and stain-resistant, so tile flooring will look brand new long after installation, so long as it is well-maintained.
Maintaining a tile surface is relatively simple. Simply sweep and mop it regularly to keep up its pristine appearance. If anything is spilled on the floor, wipe it up as soon as possible. There are special tile cleaners available to remove any stains that set in. A tile floor is made up of many individual pieces, so if any irreparable damage is done to a tile, you can just replace that piece instead of the entire floor. Learn more about maintenance for ceramic tile flooring and other tile varieties by speaking with our helpful staff.


Easy Installation Available Through Our Store
Save time, energy, and money by taking advantage of the installation services available through our store. Instead of searching for a contractor or trying to do it yourself, let our professionals handle it for you. Proper tile flooring installation is essential to ensuring your new floor looks it best and lasts its full lifetime. Fortunately, our installers are specially trained to work with every tile product we sell.



Contact us for more information on our range of tile flooring products and our installation services. We proudly serve Redding, California, and the surrounding areas.