Improve the Strength and Beauty of Your Home with Waterproof Floors in Redding, CA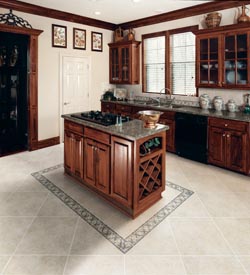 It's time to rethink your interiors. At Flooring America of Redding, we make it easier to plan and carry out your remodeling projects. We are your source for waterproof floors in Redding, CA. Visit our showroom and discover your interior design options. With our friendly staff, expansive selection, and professional installation services, attaining a better interior is a simple and hassle-free experience.
At our showroom, we are committed to helping you find the right flooring to meet your needs. To that end, we have teamed up with well-known manufacturers to build a large catalog of flooring products. We invite you to explore our selection of waterproof flooring. Our show floor includes samples of products in different styles and designs, allowing you to preview your favorites and find the right flooring that will meet your needs. As always, our helpful associates are available to assist you. Come in with ideas, and we will empower you to finish your project with confidence.
The Different Types of Waterproof Flooring
Beautify your property while giving it essential, everyday protection. Water-resistant flooring has grown in popularity thanks to its visual appeal and versatility. These products are comprised of high-grade materials that repel water and other water-based liquids. These floors are available in carpeting and solid surface options, which mean they go well in virtually any room. Whether you are thinking of remodeling the kitchen, bathroom, common areas, or even the bedrooms, there is a waterproof flooring option that will meet your needs.
Water-resistant vinyl flooring, for instance, is a solid surface flooring option that goes well with any interior design motif. Its distinct composition allows this material to resist scratches, scuffs, scrapes, and impacts easily. As such, it's a smart choice for high-traffic areas, like the kitchen, hallways, and even the bathroom.
Have you ever wanted the beauty of solid hardwood in spill-prone areas like the kitchen? With waterproof luxury vinyl planks, your remodeling options are now virtually limitless. Advances in manufacturing allow this flooring option to mimic the appearance of materials like hardwood and ceramic successfully. On top of that, vinyl flooring is easy to clean and maintain. Spills wipe away easily, which minimizes the chances of stains.
For softer flooring that doesn't compromise on strength, we recommend water-resistant carpet. These products utilize specialized fibers and dyes to create surfaces that are highly resistant to spills and stains. Our selection of water-resistant carpeting includes products in different textures, patterns, and colors.
Let Us Help You Complete Your Re-Flooring Project
When installed properly, your flooring will look great and serve you well for years. When it's time to put your remodeling plans into action, we're here to complete your water-resistant flooring installation. Our flooring technicians are available to place your new flooring. Whether your project is for a single room or your entire property, we'll work hard to ensure you get the picture-perfect results you deserve.

Contact us to learn more about our waterproof floors. We proudly serve customers in Redding, CA, and surrounding areas.